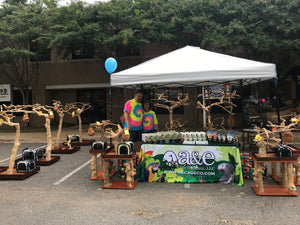 Parrot Fest 2018 is in the books!!
On October 6-7 we hosted our first annual Parrot Fest - two days of fun and discounts for and about parrots and our customers. We also added a fundraising component to help animals and birds in need.

Building on our many years of an annual sale/customer appreciation event, we decided that  Parrot Fest would be much more than just a sale by taking the event to the next level.

As many of you know, we receive most of our cages and java trees from A&E Cage Co. Each year, they offer us a discount on all their products. We, in turn, pass those discounts on to our customers in appreciation of your support  our small business. We add many other products to the sale list including all toys, treats and carriers. 

Going from a sale to a "Fest" proved to be a challenge, but one that we were up for. Several months in advance, we frantically jotted down notes and ideas. We talked to friends and family to see who could help and solicited ideas from customers about things they would like to see during our event. 

We really wanted to make this year's event special. Our business has had good times and bad, but over the last year things have definitely been good. We've had tons of support from customers, friends and family and feel very grateful to be where we are today, and we wanted to show our appreciation in a way that everyone would enjoy.

But we also wanted to pay forward our good fortune to a rescue group that has helped so many homeless animals and birds over the years. Since our store is located in Fairfax County, we chose to raise money for the non-profit group Friends of the Fairfax County Animal Shelter. 

This organization supports shelter pets and programs and has been a huge advocate for the animal shelter itself. Because Fairfax County is such a populated area, its shelter receives many animals everyday. Often times, those animals are parrots that are never claimed. These birds are subsequently vetted and then cared for until a suitable adopter is found.

For the fundraiser part of our event, we held several different raffles. The first of our raffles was for a medium size bird cage valued at $169.99. The next was for a large java tree play stand valued at $499.99. The 3rd raffle was for a tabletop java tree and matching java table with a total value of $210.99. All three of these items, were generously donated by A&E Cage Co. 

The other raffles were for three different tote bags (small, medium and large bird), stuffed full of valuable toys and popular treats. The remaining raffle was for a year's worth of free Avitrims. In total, we raised $800 for the Friends of the Fairfax County Animal Shelter. We are thrilled with the results and can't thank our customers enough for their contributions to our raffles. 

We had a great time creating this lively event - outside the store we had live music, face painting, and BABY GOAT SNUGGLES! Yes, it was an event for and about parrots, but the truth is, baby goats make everything better. Everything! The goats belong to us and live on our mini-farm in Nokesville. A friend manned the grill and everyone enjoyed free hot dogs, drinks and cookies under a tent with seating so everyone could relax.

Inside the store, we had our raffle table set up with plastic halloween pumpkins for ticket receptacles. The popcorn machine was going full blast, filling the store with the aroma of fresh popped corn. Kids (and adults) had a great time passing out plain popcorn to the birds and we're pretty sure the birds weren't complaining about the treats either (or the attention). 
We saw lots of new faces over the weekend and many more that we've known for years. We are hopeful that those who made their first visit to our store were enchanted by the birds and atmosphere as much as we are and go on to learn about, appreciate, and one day have a bird companion of their own.

We could not have made this event successful without the overwhelming support of our wonderful friends, family and most importantly, our loyal customers. We would like to thank Don from A&E Cage Co, Celia and Evelyn from the Friends of the Fairfax County Animal Shelter, Ian Woodbury, Teresa Ahmad, my mom Tina Morgan and our amazing friends/volunteers: Joe Dean, Joan Beckner, Larry Belkov, Karla and Connie Hunt, Mark D'Angelo, John Hawes, Dylan and Allison Feldman, Derek Wahdan, Steve Parker, Melissa Doran and Ali Fisher. We'd also like to thank Bonnie Hobbs and the Connection newspapers for covering our store and event. We could never have pulled this off without everyone's help!

Thanks for reading and for those of you that came by over the weekend, thanks for your support. We hope you had as much fun as we did. 

We're already looking forward to Parrot Fest 2019!

-The TC Feathers Crew